The 2014 NBA Draft is just two months away and it's evident that extensive scouting and coverage is popping up everywhere. At BT Powerhouse, we have stepped up our game even further discussing players from each of the B1G schools and their chances in the pros. This kind of coverage is great as these players are the future of NBA for 10-15 years to come.
I'm reading a lot about pick and roll game, three-point shooting, defensive skills, and work ethic, but I believe scouting for college basketball is missing something. Who is scouting the different bench hype men around the country? It's no secret; the NBA needs reliable, productive, and enthusiastic bench players.
Take a look at the Golden State Warriors. From 2008-2012, the Warriors averaged 28.5 wins and not surprisingly, didn't make the playoffs once. In the past two seasons though, the Warriors have won 47 and 51 wins. What has changed for the recently struggling Golden State team?
Some will say that the emergence of Steph Curry as one of the best players in the NBA has made a huge impact on their win total, but I think otherwise. Sure, a substantial increase in points and assists for Curry from the 2011-2012 season to the 2012-2013 might help, but it's not the reason.
During the 2012-2013 season we saw the emergence of the Golden State bench mob. This enthusiastic group of professional NBA players seem to be paid more for their ability to act goofy then to make baskets or bring down rebounds. They are confident players who aren't scared to mock the other team.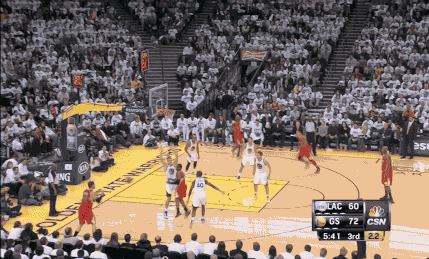 And they obviously enjoy big leads in big games.
With the importance of this being stated, I have scoured the country looking for the best of the best when it comes to hype men. I have perused YouTube for hours on hours. I have asked the Twitter world their thoughts on the matter. And, not surprisingly, I have asked the BTP crew which college basketball players deserve to be on this list.
When it comes down to it though, I graduated from Virginia Tech with a degree in Bench Celebrations with a minor in Journalism for a reason. I have worked hard to compile my list of high-impact bench players for the 2014 NBA Draft. You're welcome Chad Ford. Teams like Philadelphia, Milwaukee, and the rest of the lottery members should take note. These eight players have the potential to turn a franchise around in just a few years.
#8- James Bell, Villanova
Pros- James Bell has a lot of things NBA executives ask for when it comes to this position. He has a high motor and clearly possesses the anticipation needed to become a great hype man. In the game tape you can see the arm raised high. You can see the good positioning for when the shot is made. And when the shot is made, his energy is felt.

Cons- While Bell possesses some of the best energy amongst eligible NCAA players, he needs to get back to the drawing board. Mixing three moves all into one does not translate to the NBA. Starting with the high jump then moving on to the crazed man is textbook, but then incorporating the Superman is too much Instead, focusing in on particular moves could make him the top hype man he clearly wants to be.
#7-Naadir Tharpe- Kansas
Pros- Clever, thought-out dance moves are needed in the NBA right now and that's what Tharpe possesses. Dave Chappelle would be proud of his thoughtfulness and excitement even in a blowout. It's this kind of motor that attracts NBA executives to him.
Cons- Tharpe's biggest issues are the ones off the court. He has run into trouble with pictures leaking that haven't helped his draft stock. Also, while his moves are clever they are lacking crispness. Towards the end of the celebration he gets sloppy. The NBA is not the place for sloppy routines and some executives feel he might have to start in the NBDL to get the proper bench time he needs.
#6- Colby College Men's Basketball
Pros- Colby College is the definition of raw talent. When you watch game tape of them you see well thought out routines with great execution. They have moves never seen before and push boundries with these moves.
Cons- With every small college comes the question of "Can they compete with the big boys?" This is certainly the case with Colby College and is really what holds them back. They haven't competed in the biggest of venues and an arena like Madison Square Garden could be too much for the group of hype men from Colby College.
#5- Marquel Curtis- Tulsa
View Here

Pros- It was an absolute treat to watch Curtis display his moves in some of the biggest of stages this past season. In the Conference USA Championship Game, his moves were executed almost perfectly. The simultaneous use of upper and lower body wowed me. His focus is second to none and most importantly, when you watch this tape your focus goes directly to him.
Cons- At this point it seems nitpicky to critique the slight error in footwork, but to be the top hype man in this year's class it's required. With many accomplished and successful hype men, you fear they are only about themselves. In this video you can see hints of that and this is partially why he's dropped from number three to number five in recent rankings.
#4- Andrew Dakich- Michigan
Pros- Dakich comes from a family of "look at me" type personalities. His father, Dan Dakich, routinely makes bold comments while on ESPN and with Andrew you see a lot of these same qualities. In this video, Andrew is capitalizing on a big lead against in-state rival Michigan State. The cockiness to do moves in front of a big rival is huge. Confidence is key at this stage in the game and he has a knack for knowing when a shot is going in.
Cons- Like all top hype men, too much tape is available at the tip of our fingers. This is the case with Andrew as I've seen some lackluster performances out of him. There also seemed to be times when he was celebrating for the camera. It's the natural excitement of the game and not the scripted celebrations that NBA executives look for.
#3- James Fraschilla- Oklahoma
Pros- Fraschilla was originally known as Fran Fraschilla's son, but he's making a name for himself as a big time hype man. The junior guard has reaped the benefits of staying in college and continuing to work on his hype game. In this particular tape, you see one of the best if not the best air guitars in college basketball. He is clearly playing a mean bass guitar while his teammate rocks out beside him. The form is impeccable all the way down to the left handed three sign.
Cons- There is not much to hate on here. If anything, he could have possibly gotten a whole band together (drums included), but he does have a band member with him. Also, helping the teammate behind him to perfect his craft as well is desired, but is not frowned upon at this stage in the game.
#1/2- Xavier Thames and Skylar Spencer- San Diego State University
Pros- Can you say clear cut top two hype men? This two-some clearly has worked hard at their craft to get to this point. To start, the execution of a tough celebration is spot on. As the shot goes in, Spencer falls to the floor in one natural movement. Thames comes to save the day as Spencer has clearly fainted from three-point shock (totally understandable). The teamwork is second to none. What is also loved is the work ethic shown with a 24-point lead. Most importantly though, these two have the cockiness to use the game floor in their move. Kudos men.
Cons- There aren't more of these two.